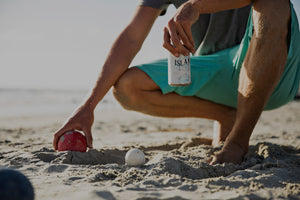 GOOD VIBES
ISLAND SOUL
Island Coastal Lager (ICL) is made for thrill-seekers, outdoor enthusiasts, and beer drinkers everywhere. Brewed with only the finest, all-natural ingredients, Island Coastal Lager is the clean, crisp beer to reach for next time you're in the sun.
ON SOUTHERN TIME
PEACH FOR THE STARS
Juicy, sun-ripened peaches, fresh-brewed Southern tea, and premium beer are combined to create Island Southern Peach. Get some South in your mouth with this updated twist on a Southern classic. Fresh and flavorful with a hint of sweet peach tea, this beer is made for easy drinking.
CITRUS DELIGHT
WHEN LIFE HANDS YOU LEMONS, DRINK 'EM
Inspired by the Mediterranean's coastal lemon groves, Island Lemonada is both thirst-quenching and delicious. Kick back and soak up the sunshine with this shandy that perfectly balances the finest premium beer and fresh-squeezed lemonade. Perfect for poolside parties, backyard BBQs, and river rafting trips.
PARADISE FOUND
FORBIDDEN NO MORE
Originally discovered in the West Indies, the pomelo was once known as the forbidden fruit. Tart and juicy with a kiss of bitterness, Island Pomelo Grapefruit takes the best of this succulent citrus and combines it with our superpremium lager for the ultimate in treat-yourself refreshment.
COMING SOON
ALSO AVAILABLE IN
OUR BEERS DELIVERED
TO YOUR DOOR
While you're surfing the couch, surf the web and get a 12-Pack of happiness delivered straight to your door!
SHOP NOW